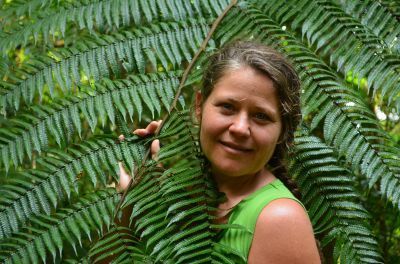 Karen Jensen grew up on Cape Cod where she developed her love for swimming and biking while growing up alongside the ocean. Her passion for movement and discovery lead her to cycle touring which enabled her to explore the United States while meeting numerous wonderful people. A graduate of the CT Center of Massage Therapy, Karen received honors in both hands-on skills and academics. She has excellent palpation skills and sessions often place special emphasis on myofascial work and deep tissue massage. Her interests in massage center on specific work improving injury recovery, reducing pain and promoting relaxation.
Karen has advanced training on Orthopedic Massage and Massage Cupping. She is skilled in utilizing assessment techniques to select the most appropriate technique or massage modality to best meet her clients diverse needs.

As an adventure cyclist Karen recognized the incredible power of the human body. That combined with a strong desire to work with others in order to encourage healthy movement brought her into the field of massage. Karen uses her creativity, intuition, and attentive listening skills to meet each unique client where they are. Karen utilizes deep tissue massage, myofascial release, active and passive movement techniques, and stretching to address acute and chronic pain, to assist in injury rehabilitation, and to increase overall relaxation. Karen's goal is to support clients in reaching their body's optimal functioning level.